I had wanted to do posts for each of these ideas, but in just the time that it has taken to upload these pictures I've pulled babies off the stairs, found passys, found blankies, picked up the special movie mix I made for the kids that the baby DUMPED out the second I gave it to them, pulled Lilah-Grace off of the baby gate that she can now scale in seconds, look at every bad guy in Despicable Me, cleaned up tiny Lego pieces, picked up a baby, put down a baby…
Should I go on?
So…
Here they are all in one post.
Enjoy!
Chalkboard Paint Craft Table
This table used to be super cute and cover in zebras but SOMEone took a purple sharpie to it!
Love how it turned out.
Found a bunch of old frames at the antique store.
Added white paint.
Used some here…
and here in my daughters room.
I had this idea for a while but wasn't quite sure how I would make it work.
On my first trip to Hobby Lobby (IN LOVE) I came across those embroidery hoops and from there my idea took off.
Just added ribbon, twine and garland and now baby girl has my version of a crib mobile.
I love to use old frames w/o the glass.
Here I put McKinnley's initial to go over here crib.
And here I used one to frame these old pointe shoes I won for 7 bucks on ebay.
For my little Ballerina!
She has a long wall and rather than cover it in frames I made a banner out of the fabric left over from her window treatments.
And to go at the end of her new big girl bed, this old wooden box I scored at the thrift store.
She uses it as a little step stool to climb into her bed and also to store her ever growing collections of shoes.
While out searching for my girls' rooms I came across this old wooden oar and new my man would love it.
Tacked on his banner and it now sits proudly over his bed.
So there you have it.
That's what I've been up to.
When I'm not doing the above mentioned.
PS
Gotta do whatcha gotta do.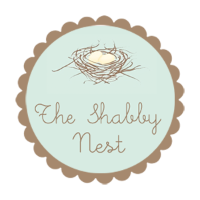 8 COMMENTS: